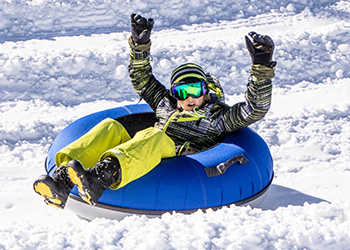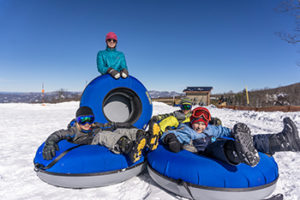 There's no tubing like snow tubing, and the Banner Elk area is home to four of the best places to snow tube in the North Carolina mountains.
Snow tubing is among the easiest — and most fun — winter sports because it requires little preparation, equipment or skill. Just hop on a tube and whoosh your way down the hill.
Visitors to Banner Elk have a quartet of options. Within a few minutes of downtown are snow tubing parks at Sugar Mountain Resort and Beech Mountain Resort. About 25 minutes from town is Hawksnest Snow Tubing at the former Hawksnest ski resort. And, 30 minutes from Banner Elk is Jonas Ridge Snow Tubing.
All of these tubing parks provide 100% snowmaking to help with snow conditions when Mother Nature is taking a break, and they are considered the cream of the crop for snow tubing in North Carolina. But as far as which one is the best depends on what you're looking for.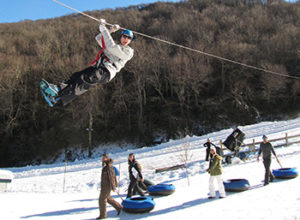 Hawksnest Snow Tubing is the biggest. It converted from a ski resort to snow tubing in 2008, giving it plenty of space. There are more than 30 runs in four sections, all connected by conveyor carpet lifts. The runs range in length from 400 to 1,000 feet.
Hawksnest also offers a winter zipline tour that soars above the tubing lanes. Because its elevation is not as high as Sugar Mountain or Beech Mountain, it occasionally encounters slightly warmer temperatures that create challenges in snowmaking.
The snow tubing park at Beech Mountain Resort is the newest. This state-of-the-art facility opened in winter of 2015-16 in the Alpine Village at the base of the ski slopes. The eight runs are extra-long and punctuated by small moguls known as rollers. It is lighted and surrounded by high-tech snow guns and a sound system. A Magic Carpet conveyor whisks tubers quickly back to the top.
Customers can buy tickets right there in the Beech Mountain ski village and enjoy other activities in the village, including ice skating and shopping, when finished with snowtubing.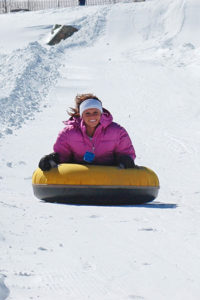 Sugar Mountain Resort has the closest snow tubing park to Banner Elk. Sugar Mountain is known for strong snowmaking capabilities on the ski slopes and that goes the same for its snow tubing runs. Six runs are served by a conveyor carpet lift and Sugar probably stays open the most days each winter. The tubing runs are adjacent to the skating rink and both are easy to access because they have their own parking lot before you get further up the mountain to the ski resort.
Jonas Ridge is a smaller operation that has been in business since 2004. It has five lanes and recently replaced its rope tow with a conveyor carpet lift. Photographers take pictures as you tube and the photos are available for purchase on the spot, or later online. There is a small, cozy lodge with a fireplace and an observation deck.
Although snow tubing is easy and no lessons are needed, there are a few things you can do to maximize your adventure:
First, wear warm socks and waterproof or water-resistant winter boots. Otherwise, your shoes will get soggy, wet and/or ruined, and your feet will be cold the entire time.
Second, wear a winter jacket that is either waterproof or water-resistant for all those same reasons. You will be on ground level and encountering snow and slush.
Third, pay attention to your pants. If you don't have waterproof/water-resistant pants, make sure to wear thermal underwear or some other layer underneath your pants (jeans are okay, but they are 100% cotton and absorb a lot of water).
Fourth, wear a ski cap (or beanie, tobaggon, whatever you call it) and an old pair of sunglasses. Your head and face will encounter wind as you whoosh down the tubing runs!
Finally, when the day of fun is done, head to your choice of lodging in Banner Elk and then check out the amazing culinary scene. Better yet, stay a couple nights and visit all four tubing parks in one trip!