When:
August 17, 2019 @ 5:30 am – August 18, 2019 @ 7:00 pm
2019-08-17T05:30:00-04:00
2019-08-18T19:00:00-04:00
Where:
Grandfather Mountain
2050 Blowing Rock Hwy
Linville, NC 28646
USA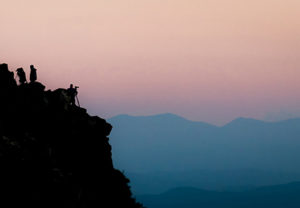 Learn to shoot great outdoor photos and get exclusive access to Grandfather Mountain after hours at the annual Grandfather Mountain Camera Clinic.
This clinic is open to amateur and professional photographers. Noted photographers will give presentations and tips, and participants have the rare opportunity to photograph the park outside of regular business hours.
Speakers for 2019 are:
Tom Fox, a photojournalist for 24 years and winner of the 2006 Pulitzer Prize for Breaking News Photography for his coverage of Hurricane Katrina;
Melissa Sue Gerrits, staff photographer for The Fayetteville Observer in Fayetteville, N.C., and winner of the 2019 N.C. Press Association's Hugh Morton Photographer of the Year Award;
Scott Muthersbaugh and Jerry Wolford, award-winning photojournalists (and both former Hugh Morton photographers of the year), who now run Perfecta Visuals commercial photography in Greensboro, N.C.; and
Chuck Liddy, a four-decade veteran of the news industry with more than a hundred awards to his name, who has covered assignments ranging from college sports to hurricanes to wars in Afghanistan and Iraq and more. Liddy currently serves as a photojournalist with The News & Observer in Raleigh, N.C.
The Camera Clinic was originally organized in 1952 by the late Hugh Morton, founder and steward of the Grandfather Mountain nature park and a distinguished photographer.
"The Camera Clinic is a favorite not only among photojournalists, but photographers in general," said Frank Ruggiero, director of marketing and communications for the Grandfather Mountain Stewardship Foundation, the nonprofit organization that owns and operates the Linville, N.C., nature park. "Our speakers touch on a wide range of topics and can help participants hone their skills and widen their focus."
Admission to the event is $50. A discounted two-day admission ticket is available for $30 and $14 for adult and child guests, respectively, of Camera Clinic participants who wish to enjoy the park but do not plan to attend the seminars. This ticket allows guests to come and go as they please Aug. 17-18. Guests may also purchase tickets for the Saturday buffet dinner for $15.