When:
2019-07-31T14:00:00-04:00
2019-07-31T14:15:00-04:00
Where:
Historic Banner Elk School
185 Azalea Cir SE
Banner Elk, NC 28604
USA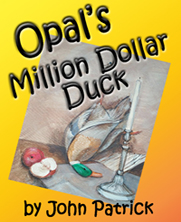 When a pair of customers drop by Opal's Antique Junque Shop, they spot a still life of a dead mallard duck and an apple. Thinking it might be a priceless canvas missing from the local art museum, they offer Opal a "fair" price for it. But she plans to give it to a friend and won't sell. What follows is a series of wild and entertaining schemes as the customers try to abscond with the painting and collect the reward.
The play is part of Ensemble Stage's 2019 Summer Professional Mainstage Season.