Apple Hill Farm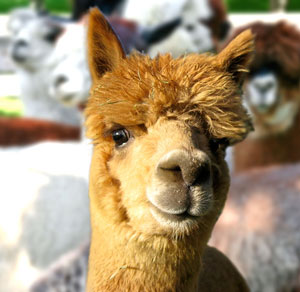 400 Apple Hill Rd
Banner Elk, NC 28604
828-963-1662
One of the best kept secrets in the North Carolina High Country is the Apple Hill Farm, located just outside of Banner Elk.
Apple Hill Alpaca Farm is a working farm that is open to the public year round. From mid May to mid October, daily tours take place at 2 p.m. From late October through early May, tours take place only on Wednesdays and Saturdays at 2 p.m. Throughout the year, individual tours can be arranged by appointment. Tours typical last between 60-90 minutes.
The farm covers several acres near the top of a ridge, with bucolic farm land and panoramic views. Visitors get a chance to see and interact with the animals, including alpacas, llamas, angora goats, horses, donkeys, ponies, pigs and chickens.
Meanwhile, an impressive collection of day lilies dot the landscape. And, don't forget the apple trees!
Fiber from the angora goats is made into mohair and sold in the farm store. Also sold in the store is alpaca yarn made individually from each alpaca, so visitors can pick out yarn from their favorite alpacas with names like Billy, Meadowlark and Mojo.
Apple Hill Farm hosts regular events, such as alpaca shearing day and a Christmas celebration.
For more information, call (828) 963-1662 or click here