Fourth of July Parade & Party in the Park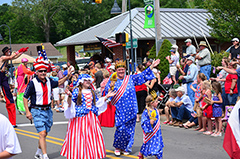 Downtown Banner Elk, Main Street
Banner Elk, NC 28604
828-898-8395
Always July 4th
An all-American celebration takes place each Fourth of July in Banner Elk. It's a day that makes Uncle Sam proud, starting with the Banner Elk Fourth of July Parade at 11:00 a.m. The parade begins at the Lees-McRae campus library and goes down Main Street.
The parade concludes with a "Party in the Park" in Tate-Evans Town Park, where folks enjoy lunch from several vendors and traditional lawn games like the egg-toss and sack race. Banner Elk's Duck Race, which features hundreds of rubber ducks racing down the creek in the park, makes this an event not to be missed.
The parade and party are part of the larger Mile High Fourth of July, a multi-day celebration of our nation's independence each year in early July. Banner Elk combines with neighboring town Beech Mountain for several days of patriotic festivities, live music, fireworks and more, all culminating with the July 4th parade and party.
For more info on the Mile High Fourth, click here.