Serenity Day Spa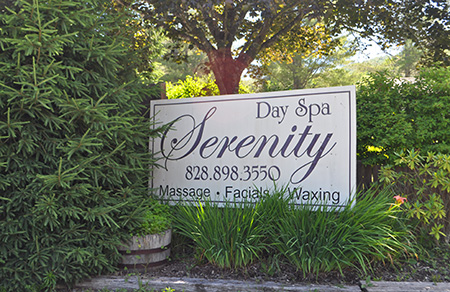 72 Arnett Road
Banner Elk, NC 28604
828-898-3550
Serenity Day Spa invites you to spend as little as an hour or as much as a full day. Located about three miles south of downtown Banner Elk directly across from the entrance to Sugar Mountain, Serenity's cottage has a cozy, mountain feel. Relax by the fireplace in the winter or on the beautiful patio in the summer.
Owner and operator Cari Ashbaugh has extensive experience as a licensed massage therapist and skin-care specialist. Ashbaugh offers a variety of massage techniques, such as Swedish, deep tissue, trigger point, cranio sacral and hot stone. She also provides massage treatment for pre- and post-pregnancy patients. Basic massages are available for a half-hour, hour, or hour and a half. In addition to relieving tension and stress, massage treatments increase range of motion and flexibility, improve circulation, and enhance the immune system.
Serenity has a long list of facials. Its signature is the European aromatherapy with deep cleansing, exfoliation, extractions and a mask. For those pressed for time, the express facial condenses the one-hour treatment into 45 minutes while ensuring the same cleansing benefits. The glycolic treatment exfoliates dead skin cells, diminishes fine lines and enhances the skin's natural renewal process. For best results, schedule glycolic treatments in a series of six appointments taking place every seven to 10 days.
Body treatments provide overall skin renewal. The salt glow treatment cleanses, exfoliates and rehydrates with a mix of sea salts and massage oils to give the skin a healthy glow. The back cleanse purifies and rehydrates skin in those hard-to-reach areas. A variety of waxing and hair-removal services are also available.